The Japan Softball Association(JSA) was formally established in 1949 after it decided on a separate path from the Japan Rubber Baseball Association. In the same year the first All Japan Women`s Softball Championship was held and, whats more, the JSA became one of the events at The National Sports Festival, the biggest sports event in Japan. As a consequence, it has since become a nationally recognized competitive sport.
In 1951, what represented its first step into the international area, the JSA joined the International Softball Federation (ISF). The national team was able to broaden its horizons to then participate in the many internationally held tournaments. In 1970 the 2nd World Womens Softball Championships was held in Osaka Japan where the national team ran out as overall winners.
Ever since, progress in all aspects of the sport has become fuelled by the fierce competition at all levels of the sport here in Japan. In addition, coaching at youth levels has made significant inroads in providing softball in Japan with a healthy future.
The National Women`s team finished in 4th place at the 1996 Atlanta Olympics. They improved on this by winning silver at the 2000 Sydney Olympics Games and, not to be outdone, the Men`s National Team became World silver medalists in the same year at the 10th World Softball Championships. In 2004, at the Olympic Games in Athens the Women`s Team attained bronze. Finally, to cap it all, as it were, The Womens Team then went on to win gold at the 2008 Beijing Olympics making them medalists at three consecutive Olympic Games, thus reiterating the fact that they truly were the best in the world.
The Japan Softball Association is proud to represent all levels of the sport within Japan. Its main aim is to enhance the softball`s popularity here in Japan, thereby nurturing the overall health and welfare of the Japanese people for time to come.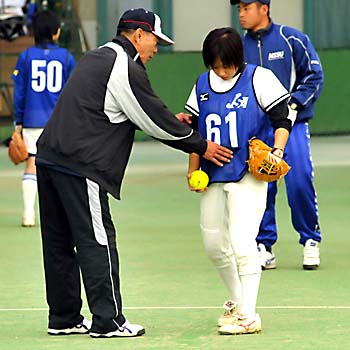 Overseeing the spread of the sport
Softball skills and performance research and coaching.
Training the coaches
Maintaining competitiveness within the sport
Organizing The All Japan Championship and other tournaments within Japan
Overseeing the selection of the National Team for overseas tournaments
Overseeing the implementation of rules and regulations within the sport
Overseeing certification of Umpires, Scorers and Leaders
Testing all equipment used in the sport
Publishing journals and periodicals regarding softball in its many forms
Representing the sport hand in hand with The Japan
Sports Association, The ISF, The Japan Olympic
Committee, and The Softball Confederation of Asia.
Any further duties required in the accomplishment of the above.